Our Mission
FIELD Kits aspire to connect children to nature and develop an understanding of its importance with the hope of inspiring environmental conservation and recognition to preserve our environment.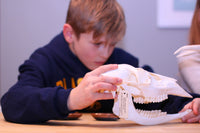 What are FIELD Kits?
FIELD Kits are Friendly, Interactive, Engaging, Learning, Discovery kits that connect students to nature while providing a lesson plan, tactile components, indoor and outdoor activities, all requiring little to no volunteer support, and easing preparation work for teachers. As well, to help with budgets, these rentable kits can be shared within the school, reducing the overall price for each teacher. 
What the kids are saying about FIELD Kits
Three things I liked about the life cycles kit:

Turtle because the real shell
Shark because the little stuffy
ALL!

Omer
I liked the puppets because it's fun to interact with a replica of the actual thing. I liked that the stuff was realistic because if not then we would not get to experience the real thing. Lastly, I liked that they were hands-on activities and not writing/forms. Lots of fun activities and perfect for a in-class field trip!!! I loved these kits a lot. Recommendation: 5 stars (A+)! I highly recommend this for classes to use :). Loved it!

Aditri
You should get these FIELD Kit's they are the best. You get to see a real turtle shell and a goose egg and you get to learn about LIFE cycles!

Kade
I like the real turtle shell it was amazing, thank you

Long
Woah! The bat skull is so TINY!

Anna
This is extra fun and worth it!

Darek
Hear what teachers have to say
My students enjoyed a fun and informative week of Science, Science, Science, using the FIELD Kits. The lesson plans are nicely laid out and easy to follow. The introductory activities help to set the stage for the kits. The stations had a nice blend of hands on (felt, cards, pictures, artifacts) and information. The student questions helped to guide the students to look for information. Small groups of 3 worked well. They worked as a team. It was nice to see that the kits included a First Nations perspective with stories/legends. 


Kathleen Shulhan, Camilla School, Life Cycles Kit
We were able to use the Adaptations kit for one afternoon. As soon as the natural animal artifacts were displayed, my K/1 class was fully engaged! Kenzie has spared no expense to collect the most relevant hands-on resources to complement this kit. The thinking and observations the students shared while looking at and touching the artifacts was so much more insightful, focused and enthusiastic - and then they wanted to see what other goodies were in the kit!

Katherine Drew, Chantrell Creek Elementary, Adaptations Kit
I set up seven stations with all the animal specimens for the students to explore.  We have been learning about animal adaptations, so they were very familiar with looking at the specific features that help animals to protect themselves, find food and move around.  The students were very engaged with all the materials and eagerly explored at every station. I found that the students preferred the hands-on specimens, and a half-day wasn't long enough for us to explore all the various cards/ questions that went with each animal.

Michelle, Chantrell Creek Elementary, Grade 2, Adaptations
The Field Kit was very engaging and exciting for my students. Especially with Covid restrictions keeping us from real world experiences, it was nice to bring the world into our classroom. Kenzie was very helpful and involved in the process. Thank you! 

Tessa Tuff, Ralston School, Grade 3, Life Cycles
The students showed so much excitement the moment the field kit was opened. The hands-on approach really allowed them to explore each animal and come up with questions on their own. Everyone was engaged the whole time and so many different lessons could be built off of the items in this field kit.

Lauren, Chantrell Creek School, Adaptations
Our class loved the field kits! Students were engaged and all of the artifacts sparked a lot of curiosity and questions! Thanks!

Chelsey Harding, Chantrell Creek Elementary, Adaptations Kit
I love these kits! So versatile and awesome! It has started so many conversations and they had so many great questions and most were answered in the kit! We learned about roses and bees and then we went outside to examine our roses and rescued a bee from the dog bowl. Which was great because we could look at him closely while he recovered. We compared what we just learned against the real thing! It was so cool and the best part... I looked so smart!!! 

CH
I thoroughly enjoyed using the All About Plants Field Kit with my students. It was a great way to get them engaged in what they are learning and being able to actually see what different types of plants look like since we can not always find them around our area! My students were able to learn a lot about plants during our time with the Field Kit, I would definitely rent it again! - May 15 2023

Chelsea N - Ermineskin Elementary School - Grade 4
FIELD Kits Coming Soon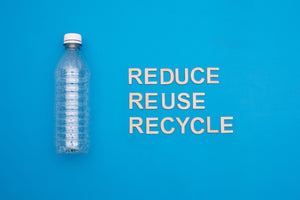 Waste in our World - Almost here!
Experience the different ways our waste is taken care of... is it enough? How can you make a difference? Focusing on a greener tomorrow! 
- Inquire for more details if you would value this kit in your classrooms
Custom FIELD Kit
Are you looking for a specific topic?
Contact fieldkits@gmail.com to discuss the creation of a custom FIELD Kit.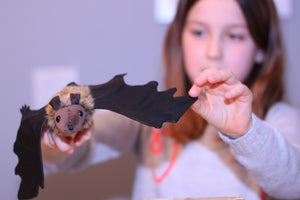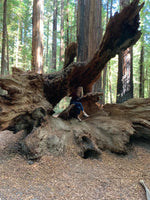 A little about me...
Hello, my name is Kenzie. My passion for the environment started in my early childhood. I remember always being outside, wind in my hair and wander in my eyes. Interested in learning more, you're just a click away.
In every walk in nature one receives far more than he seeks.

John Muir
"We could never have loved the earth so well if we had had no childhood in it"

~ George Eliot
In every walk in nature one receives far more than he seeks.
John Muir
"We could never have loved the earth so well if we had had no childhood in it"
~ George Eliot